The brother of Hassan Khalif Shire Ali, the man who killed restaurant owner Sisto Malaspina in last year's Bourke Street terror incident, has pleaded guilty over a plot to gun down New Year's Eve revellers at Federation Square.
Ali Khalif Shire Ali, 22, was preparing to stand trial in the Supreme Court but on Wednesday pleaded guilty to a single terrorism charge over his planned massacre.
Ali was arrested in November 2017 and police at the time believed he planned to arm himself with an automatic rifle and shoot as many people as he could on December 31 that year.
The then-university student, an Australian-born Muslim, was arrested not far from his Werribee home and has been in custody ever since. He had been monitored by police for months before his arrest.
Police have previously said Ali was in possession of an al-Qaeda guidebook, although they believe he was a sympathiser with rival terror group Islamic State.
At the time of Ali's arrest, Victoria Police Deputy Commissioner Shane Patton said the young man had tried to buy an automatic firearm through "face to face interactions", which had been unsuccessful.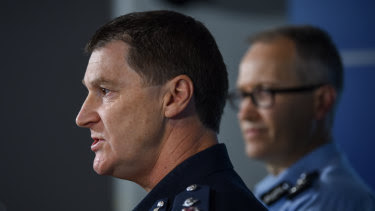 Deputy Commissioner Shane Patton speaks to the media after Aii Khalif Shire Ali's arrest. CREDIT:JUSTIN MCMANUS
"The potential of the attack is catastrophic," Mr Patton said at the time.
"This is a person who has expressed an intention to try and kill as many people as he could. It's horrendous."
It can now be revealed Ali's older brother Hassan Khalif Shire Ali was the man who killed Mr Malaspina, the much-loved owner of Pellegrini's Espresso Bar, in an Islamic-State inspired terror attack in Bourke Street on November 9 last year.
Hassan, 30, drove a ute packed with gas cylinders to near the top of the Bourke Street mall and set them alight, and then fatally stabbed Mr Malaspina.
Police confront Hassan Khalif Shire Ali in Bourke Street last year.
He also stabbed two other men, Tasmanian businessman Rod Patterson and a security guard identified as Shadi.
Hassan then confronted police and was shot by an officer. He died in hospital that night.
Police believe Hassan tried to create a deadly explosion that would have spread shrapnel across a 100-metre radius.
The day after the attack, the Supreme Court imposed a suppression order preventing media from reporting that Ali and Hassan were brothers, given Ali was at that point awaiting trial, and any coverage of the family link was considered prejudicial.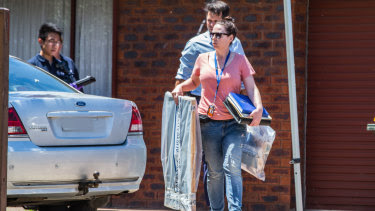 Police at the Shire Ali family home in Werribee in November 2017. CREDIT: JASON SOUTH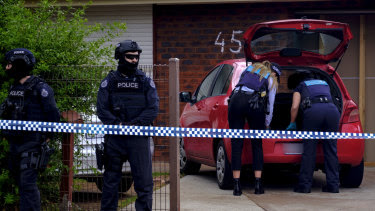 … and again in November 2018. CREDIT: LUIS ASCUI
The court ordered media that had already published stories naming the pair as brothers remove those details from online articles.
Justice John Champion on Wednesday revoked that suppression order after Ali pleaded guilty to one charge of doing an act in preparation or planning for a terror act.
Ali was in court, supported by his father and other family friends, to enter his plea. His plea came after about a fortnight of pre-trial legal argument.
Justice Champion remanded him in custody to return to court for a plea hearing on August 23.
Ahmed Mohamed, Abdullah Chaarani and Hatim Moukhaiber have been found guilty of terrorism after they torched a Melbourne mosque in 2016. CREDIT:JOE ARMAO AND DARRIAN TRAYNOR
Ali's plea comes less than a week after three men, Ahmed Mohamed, Abdullah Chaarani and Hatim Moukhaiber, were found guilty by a jury of terror charges for firebombing a Shiite mosque in Fawkner in December 2016.
The trio are Sunni Muslim men and torched the mosque and spray painted the words ''Islamic State'' on an outside wall in what prosecutors say was a sectarian terror act.
Mohamed and Chaarani were also found guilty last year of plotting a larger-scale terror attack, on Melbourne landmarks including Federation Square and St Paul's Cathedral, at Christmas 2016.
They and brothers Ibrahim and Hamza Abbas planned to inflict mass carnage through knife attacks but were arrested in the days beforehand.
Ibrahim Abbas was last year jailed for 24 years and to serve 20 years before he is eligible for parole.
The other men are all awaiting sentencing.
-By Adam Cooper, Sydney Morning Herald